Testimonials
What People Are Saying About New Horizons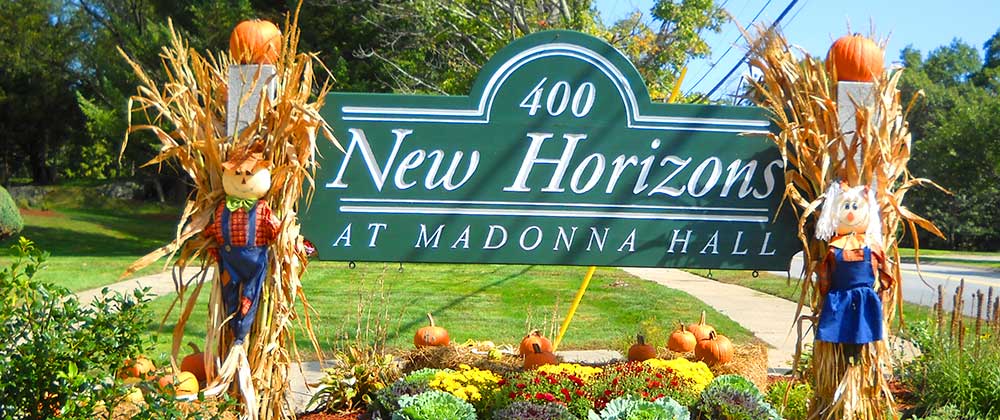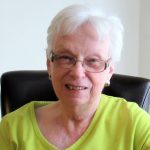 "I am amazed and grateful to be able to call this exceptional place home. The first time I drove into New Horizons, I was in love. The grounds were beautiful, the sales staff very helpful, and any questions I had were quickly and thoroughly answered. 
The staff is uniformly beyond excellent, from your administrative personnel who obviously have exceptional hiring skills, to the maintenance staff who must be the best in the business, to the CSAs who are a tremendous help on an ongoing basis. Andy is a master of communication and always available to both staff and residents.
The well equipped exercise room, a chapel for two major religions as well as space provided for Jewish services, movies every night, a pool, drinks on the patio in the summer, cookie Tuesdays, extremely well kept interiors and grounds, several libraries, the choice of hairdressers in the beauty salon, help with computers and iPads, nail painting, poinsettia plants at Christmas, and the wonderful New Year's Eve party—I am so appreciative of being able to live here."
Carol J. Sullivan, NHM
---
"In the midst of this pandemic, I want to take the time to thank the management and staff for keeping us safe. Thank you all for keeping on top of the daily changes while trying to maintain compliance with the least amount of disruption—and all while you were dealing with your own families' needs!"
Maureen Morrissey, NHM
---
"Just a note to praise and thank each of you for all you are doing on a daily basis. During these unsettling times, I want you to know that the additional measures such as Skype, daily programs, support, listening ears, and an extra hand when needed, are noticed. Learning about the variety of delicious fresh meal options and treats for a movie or delivering a DIY door wreath craft are very much appreciated by everyone, too.
Thank you so much. There are no words to express my gratitude!  Please Take Care of Yourself, too!"
Ann Nelson, sister of resident
---
"There are no words to adequately thank you for all you are doing for us. You all go above and beyond what it takes to keep so many of us old folks safe.
At personal risk, you all come in every day and truly do a remarkable job keeping us safe. These are very tough times, and I feel as if I should write every day to express our appreciation. Just know that we do appreciate everything you are doing for us.
Take good care of yourselves. You are angels."
Peg Keeler, NHM
---
"My mother has recently become a resident of New Horizons. A few weeks after her arrival, the COVID-19 crisis began to heat up. New Horizons responded quickly by putting safety measures in place such as social distancing, delivery of meals to residents' rooms, additional cleaning efforts in common areas, limiting staff from going into residents' suites, altering activities to avoid congregation of residents, and restricting visitors.
We are grateful for the diligence with which New Horizons continues to follow CDC recommendations for fending off COVID-19, and we are impressed with the success you have had. Thank you, on behalf of our family. You are doing an outstanding job, and we appreciate the exemplary work you are doing for all of the residents at New Horizons."
Diane Lightburn, daughter of resident, North Andover
---
"We are so grateful to you for the incredible process you, and all with whom you collaborated, put into place to keep all the residents of New Horizons free of COVID-19! In particular, all the Sisters of the Good Shepherd, residing at New Horizons, can't thank you enough for your caring vigilance, professionalism, and oversight that brought about this astounding result."
Sister Maureen McGowan, New York/Toronto Province Leader, Sisters of the Good Shepherd
---
"Rave reviews of NHM! Before, during, and after the move of my mother out of our 50+ year family home, management and staff could not have been more supportive and helpful. Her apartment and the facility are wonderful, and she has been taking full advantage of all the activities and amenities. The staff go out of their way to take a personal interest in her and encourage her to join in, which has really helped get her engaged and motivated. She has raved since day one about the food being 'out of this world,' and it's gotten even more outstanding since Tony has been overseeing the dining room. We could not have found a better place for her and are very grateful to all who work there."
Catherine Finneran, daughter of NHM resident
---
"I have lived at New Horizons for years, and believe me, you could not find a better community to fill every expectation of what you would like your life to be. The place is gorgeous inside and out. There are activities to keep you busy seven days and nights a week if you'd like. And what will really keep you happy all the time are the staff, who absolutely ROCK."
Linda Borrelli, NHM resident
---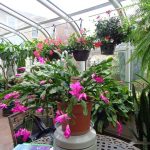 "I've been trying to find the words to express my appreciation for all the ways you've helped my mom, my brothers, and me over the years. While encouraging her to accept additional help, you also respected mom's decisions about what to do and what not to do—and more than just respecting her decisions, you actively championed her right to make autonomous decisions."
Lanelle Miller Jalowiec, Quechee, Vermont
---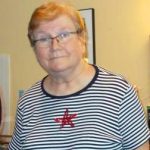 "They were incredible–they even dusted every book on the book shelf! They were amazing! Edgar did a fabulous job, as he always does, on the carpet. They even put up my wreath and the angel on top of the Christmas Tree. We are so happy. We've been here five years now and we just love it."
Megan Desnoyers, Marlborough
---


"I wanted to let the team at New Horizons know how deeply appreciative I am for all that you did for [my father]. He very much enjoyed his time there. New Horizons is a special place for many families. I will always be grateful and appreciative."
Jerry Hajjar, Newton
---
"Your thoughtfulness will be warmly remembered. My thanks again for everything you did to make my mother's funeral the perfect event. I'm sure she was smiling down on us from above. You really made it so easy for us."
Jackie Kapopoulos, Hudson
---
"My mother-in-law loves this place, so do we. Great environment, awesome people, and did I mention the food?"
Veymer Vey-cabrera, Waltham
---
"If they gave Academy Awards for retirement communities, we would certainly nominate New Horizons!"
signed "A grateful, appreciative and satisfied resident"
---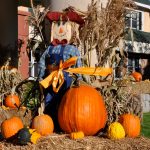 "I want to capture a few words of reflection and thanks for the excellent care provided to my parents Ted and Emily Kennedy during their 11-year stay at New Horizons.
My parents came to New Horizons at a time when they both needed some extra help with care and the luxury of not having to worry about meals and housekeeping. They made new friends and enjoyed many of the activities. My son and I celebrated most of the big holidays with them, and enjoyed the festive setting and delicious food that was served.
As their care needs increased, the personal care attendants and nurses were attentive, compassionate, and always seemed to have a sense of humor. I felt that my parents were always treated with dignity and respect.
My son and I are grateful to the entire staff and healthcare providers who were there for them faithfully for all those years. I have spoken highly of New Horizons to many of my friends and acquaintances in the community and will continue to do so."
Patricia Kennedy and Trenton Vartabedian, Marlborough
---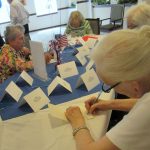 "New Horizons in Marlborough is extremely well managed. The administrative staff bent over backwards to meet my mother's needs. There are many group activities for residents, the food is excellent, and the VNA staff will do a detailed care plan that the staff follows to ensure your loved one is well cared for. I would definitely recommend the independent and assisted living facilities, as my mom was in both and both are great."
Susan Corriher, Charlotte, NC
---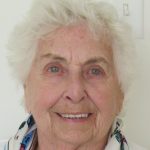 "Recommending [New Horizons] to everyone I know… Every senior should live here!"
Elizabeth "Betty" Barton
---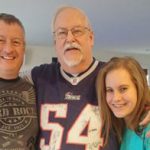 "Linda and I moved to New Horizons three years ago and we love it. The people who take care of the property do a wonderful job. Mike and Rudy on the outside and all of the staff in the dining room are fabulous. The management does a great job solving issues before they turn into disasters. In a nutshell, it is great place to live, where you are respected and people want to help you. Everyone is friendly and courteous. Thank you."
John B. Townsend
---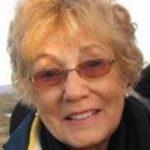 "I've enjoyed my first month plus at New Horizons. Everyone has been so helpful and friendly; my apartment is comfortable and the dinners are really good. Thanks for the 'welcome'."
Adrienne Beaton
---
"My name is Catherine Brown and I work for Around the Clock home healthcare for a resident here. I have been in the healthcare industry for 40 years. And I have to say that New Horizons is the nicest, cleanest facility I have had the privilege to work in. It caters to the residents above and beyond, and I'm sure it is due to all the wonderful staff that works here. I have seen much that has impressed me and wanted to share."
Catherine Brown, Marlborough
---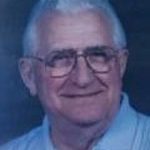 "On behalf of my Dad, George Benzie, and his family I would like to thank all of you for the engaging and caring community that you provided Dad for the last two years. Actually, there are no words that can express how happy Dad was at New Horizons. He was one of your best representatives, telling everyone he met how happy he was living at New Horizons! He always marveled at how everyone knew his name and made him feel so at home. He loved all the activities; especially the music programs and he made many friends. As his daughter, I couldn't have been happier with the warm, caring home that New Horizons provided Dad. Your staff was a big reason he felt so at home, they are exceptional. As Dad said when he was deciding where to live, 'It feels just like home.'
Thank you for giving him a place where he felt so at home and had the independence he so deserved."
The family of George Benzie, Sudbury
---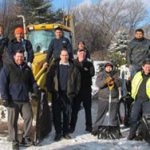 "Regarding our February 2015 Blizzard: I must say the Movie Marathon Madness was inspired. The four movies were great!
Also, the staff, many of whom stayed overnight here, were as efficient as ever–never mentioning their own personal concerns about the weather and its effect on them and their loved ones. They were so professional and pleasant. Kudos to them!"
Frances Denzel, Marlborough
---
"To you and all your wonderful staff, I want you to know it is all so much appreciated—the lovely poinsettia plant, the happy, fun residents' Christmas Party, all the lovely decorations and lighting! You all make New Horizons such a beautiful facility to live in!"
Lucille Girard, Marlborough
---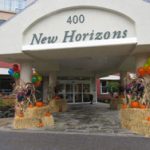 "On behalf of our family, I want to sincerely thank you, and your staff, for making my mom's last decade as full of life and companionship as possible! She moved to The Meadows after her first senior living experience left her unhappy – dissatisfied with food and the social life – it lasted about a year. Your facility was a 100% turn-around. As you know, she referred many people who ended up moving to Marlborough.
From her arrival – still quite active and driving – until her departure to a skilled care facility last month, you provided her not just with an apartment, not just with assisted living, but with a HOME. She felt comfortable to be there along with people she enjoyed being with. She talked about Pay-Me games with her friends for years. She really enjoyed having her 3 generations of descendants to the summer fair each year.
After her 8 months of rehab at our home on the Cape, we hoped she'd locate someplace nearer to us or one of my siblings. Not a chance! New Horizons was her home, that's where her other family were, and that was not open for discussion. We never felt like we were alone worrying about her because of the care of your staff."
Bruce Gordon, Marlborough
---
"I wanted to formally thank you for the wonderful Rosh Hashanah and Yom Kippur services offered by New Horizons that I attended, along with my family and my mother.
Ms. Arlene Lemieux, leader of the services, made us feel welcome and comfortable. The service was personal and accessible and she immediately involved my 15-year old daughter as well as my husband and myself. By Break-the-Fast last night (9/23), we felt that this will certainly be our new tradition and these folks, with Ms. Lemieux at the helm, will become our new congregation members. (I'm already looking forward to seeing Ms. Lemieux and the New Horizon folks at Passover!)
My husband summed it up nicely: 'These were the best services and rabbinical leader I have ever experienced.'"
Susanne Bronstein, Ashland
---

"The Meadows is a beautiful place to live. It is well kept up inside and outside. The meals are great. The dining room staff are the best."
Peg and Bud Keeler, Needham
---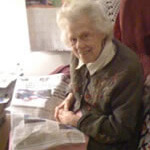 "I can't tell you how happy I am for mother to be back at New Horizons after rehab. In the short time she has been back, I can hear in her voice her pleasure at being back in her own room.
"I also want to let you know that one of your staff members has taken a special interest in my mother and I find that very comforting, as does my mother. I have met her and she is a wonderful woman."
Mary LaRusso, Sandyston, NJ
---
"From our first introduction to move-out day, New Horizons was exceptional–the staff, fellow residents, meals, grounds, apartments, amenities, etc. THANK YOU for your professionalism, friendship, and excellent service. New Horizons is truly a wonderful residence in which to retire."
Irene Powers and Patricia Selin, Marlborough
---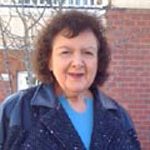 "I feel confident in recommending this quality experience to others. I could do a commercial for you!"
Rhoda Rosenberg, North Andover
---
"Know how much we appreciate all the great work you have accomplished on behalf of all our Sisters at Good Shepherd Center. [Y]ou have provided our Sisters with beautiful surroundings both inside and outside of Good Shepherd Center. [T]his has enabled them to live fully and joyfully."
Province Leader Sister Maureen McGowan and all the Sisters at Good Shepherd Center, Marlborough
---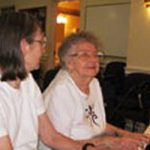 "We are all very grateful to everyone for the friendships and wonderful care our mother received at New Horizons. It is truly a remarkable community and we know that mother's last ten years were among the happiest of her life.
"The celebration of her life at New Horizons exceeded our hopes and gave closure to her family and friends. Many thanks to all the staff for helping us organize the gathering."
Judy and Pat Bevans, Blacksburg, VA
---
"My fifteen months at New Horizons was a wonderful experience. I made many friends. Everyone on staff was very caring, friendly and professional."
Jean Creegan, Marlborough
---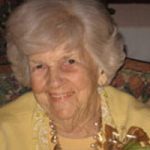 "I often think of New Horizons and what a wonderful, warm and caring home it was for my mother. I wanted to take a moment to express my gratitude to your staff in the transition of my mother to her new life at New Horizons. They were always so warm, open, kind and more than supportive. It made such a difference to have such a delicate and life changing situation for my Mom handled in such a calm and professional manner. It takes special people to do what you do. You do it so well! From the bottom of our hearts, thank you from all of the Danizios."
Janice Switzer, Medford
---

"There is a very secure feeling living here. It's like a large family. People look after each other."
Joe Adams, Marlborough
---
"Our move to The Meadows was the best decision we ever made. We are content, secure, respected, confident in the stability of the company, and enjoy the opportunities in the area." We are HOME."
Judy and Bernie Goodwin, Hingham
---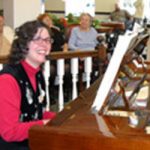 "My father has enjoyed the company of wonderful friends and staff at The Meadows for almost six years now. Your facility has represented both 'family' and a wonderful independent life for him. He will miss your musical shows, chess and bridge games with friends and the general warmth and friendship that exude in your environment.
"We thank you ever so much for your good care, professionalism and kindness extended to my father over the years."
Susan Grossman, Acton
---

"We have been living here four years and, thanks to management and all the happy smiling faces that greet us every day, we are very much at home. We also appreciate the efficiency that goes into keeping so many people content."
Bill and Nancy Hogan, Vero Beach, FL
---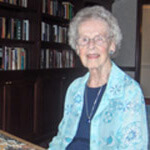 "I've been here seven years this month and two women came here because of me. After being at a competitor in Framingham, we say, 'There's no place anywhere around that can hold a candle to our Meadows."
Alice Gordon, Framingham
---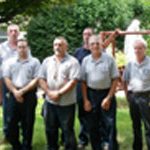 "I am writing to let you know my feelings about my new home at New Horizons in Marlborough. I feel any one with the vision and talent to design such a beautiful senior residence as New Horizons deserves appreciation shown to them. It is not only the beautiful residence but also the pleasantness and helpfulness of all the personnel that impresses me. I've been here five weeks, and I have never seen even a maintenance man, waitress or any other personnel give a hint of impatience or say an unkind word. The people working here appear to really care and not be doing their job just for a pay check."
Vida Simon, Marlborough
---
"You don't ever have to feel without friends at the 370 Building in The Meadows, just come to breakfast where no one is a stranger. If you're new to the area, there is always someone to help."
Georgette McIntire, Westerly, RI
---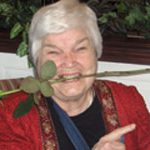 "This is to commend the work of… one of the maintenance men. He vacuumed and shampooed the living room rug of my apartment yesterday. He worked so hard and diligently and thoroughly, and gave me back an almost new apartment, while being cheerful and cooperative. He is a very valuable employee."
Pat Teller, Marlborough
---
"My years here have been wonderful! Even though the first years were difficult with my husband's illness, the support from all was such a source of help and comfort. You are my 'second family.' Life is still very uncertain but when I am here, my apartment gives me the sense of safety and comfort knowing my needs are being cared for. Thank you one and all."
Elizabeth Drown, Hudson
---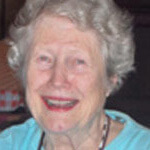 "The people living here are most cordial, polite and varied as to interests and backgrounds. The food is excellent, the soups outstanding. The 420 Building in The Meadows provides many musical and other events."
Ann Gutterman, Staunton, VA
---

"For intelligence, charm and friendliness, good fellowship, 370 Building in The Meadows is the place to be!! I can't tell you how much [we] have enjoyed our dinners at the Meadows. The company at the pre-prandial wine and cheese has been delightful, the food delicious and the service impeccable. It's been a very happy experience."
Elizabeth Hall de Lucia, Thornwood, NY
---
"I am e-mailing you today to thank everyone involved in The Meadows. Seven years ago Mr. Cummings brought to the city of Marlborough an independent living [community] that is second to none. My mother was lucky enough to be able to reside in that community. Dying this year at age 89 her last seven years with friends, social events and everything The Meadows and New Horizons had to offer gave such enjoyment to her life. I'll continue to recommend The Meadows as a wonderful lifestyle of living."
Susan Ricci, Southborough
---
"I would like to thank the people in the kitchen and the wait staff for their careful and kind attention to my necessary diet. This is far more than a courtesy and I appreciate it every day. The food is delicious and so well presented. I think we all are very fortunate."
Janet Baker Carr, Marlborough
---
"I hope you receive many more positive comments regarding the response of New Horizons to the recent snowstorms. In a word, I think it was 'fantastic.' The last was an awful storm, even for New England, yet the plows, the shovelers and others did a magnificent job. My hat's off to all of them. I thank them all for a job well done!"
Ed Levell, Marlborough
---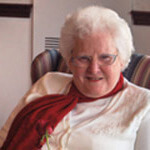 "Along with holiday best wishes, I wanted to express my appreciation to the entire staff for the Herculean efforts on Friday, December 12, 2008. The staff who went door to door, the kitchen staff and the superb meal they gave us that evening, and the wait staff who came in to serve us. Accolades should go to our often unseen maintenance staff and the cleaning staff for the great job they do without recognition to keep our public areas clean and to the staff who handle the decorations."
Pat Pietropaolo, Marlborough
---
"My mother made many treasured friends in a very short time at New Horizons."
Neil Ferris, Southborough
---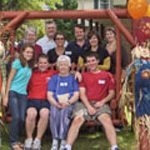 "A true family atmosphere is so evident there, and the constant caring for each resident lifts their spirits, as well as the family members."
Julie Gorgone, Marlborough
---
"You and your staff were the key elements in my father's satisfaction with New Horizons and in my peace of mind in having him there."
Edward M. Bolesky, Marlborough
---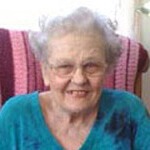 "Everybody is so happy here. I tell my friends from Needham that it is paradise on earth."
Donna E. MacDonald, Marlborough
---
"I always find everyone cheerful and helpful, a very nicely run establishment, well maintained and very clean. I find a knowledgeable staff always eager to please. My family and I appreciate all your kindness."
Linda DeMeo, Ashland
---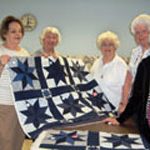 "My mother could not be happier. New Horizons sets the standard for assisted and independent living communities throughout the country. If there were more communities such as New Horizons, senior citizens would get the respect, dignity, and quality of life they so richly deserve."
David M. Young, Marlborough
---
"A very well kept place-meals are excellent-lots to keep you busy and learn. The young girls and fellows who wait on us do an excellent job. The cook at breakfast is a wonderful person, wonderful SMILE all the time. Rates number one on my list."
Marie Kinney, Worcester
---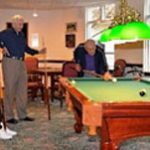 "I wish to thank the staff for the kindness and care extended to my father in the year and a half he resided at New Horizons. Moving in was not easy for him, but the staff very slowly and patiently involved him in activities. He ultimately became known for his Bingo prowess! I'm sure that my father would want me to extend his thanks to you and the rest of the staff."
Sandra Morse, Wellesley
---
"Wherever I have gone at New Horizons, I've encountered warmth and genuine care of staff in their contact with the residents. They truly reflect the philosophy that underlies the whole place. I know from the comments of many residents how they appreciate the day to day spirit of friendliness that pervades New Horizons."
Fr. Gene Trainor, Marlborough
---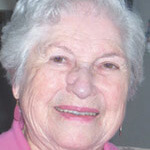 "New Horizons gives me opportunities that I could not have living back in the house. I have exercise classes and friends to walk with. I rediscovered that I could knit! I never would have started that again living at home. I go on trips and read to children at school; I enjoy piano concerts, too. I am Catholic and attending Mass is very important to me; I can walk into the sanctuary whenever I feel the need and it is so comforting."
Read Alberta's New Horizons experience
Alberta Fullem, Charlton
---
"There was no way we could have foreseen that our mother would come to be so loved there, as well as so cared for. Please accept our profound gratitude knowing you have made such a difference in our lives."
Donna and Landa Linse, Boxborough
---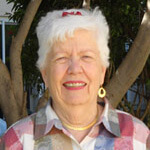 "I wanted you to know what a nice dinner Ann Mayer and I had in the kitchen of our dining room at the Meadows. The Chef and the rest of the staff served us well. It was so nice to have an opportunity to see the workings of the kitchen and I must say I was very impressed how smoothly all functions were carried out. The Chef was most interested in my comments and suggestions regarding some dishes and functions. In fact, last night I realized he had taken action on a suggestion of mine that made my dinner more enjoyable. As I told him, I feel that on the whole our food is very good and we are fortunate to have such concerned people in charge. This was a great idea and I know others are going to enjoy it."
Jacquie Miller, Marlborough
---
"There have been miraculous changes in my mother since she's been with you at New Horizons. I never thought it would be possible, but your wonderful staff and facility have enabled her to enjoy life more than ever. For that I am eternally grateful."
Bonnie Wilson, Marlborough
---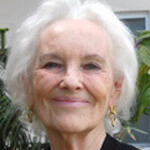 "To the chefs, dining room managers and executives who circulated during dinner, the 'Anniversary Dinner' on September 30 was spectacular. Never think that your thoughts, planning and execution of such an evening go unnoticed or unappreciated."
Frances Denzel, Marlborough
---
"The day my mother moved to New Horizons, two years ago, Ginger sat behind the front desk and greeted her with "Welcome home, Mrs. Schlemm!" I knew then that we had made a very good decision. I just wanted to extend a very heartfelt thank you from my family to yours."
Joanie Daniels, Bolton
---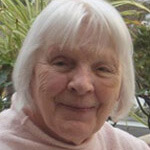 "I wouldn't give up my [New Horizons] apartment even if I won Megabucks."
Mary Lombardo, Marlborough
---
"New Horizons has been a wonderful home for my mother. It's not just the beautiful facilities that make New Horizons such a special place, it is the exceptional caring of the staff, their skill and patience and their willingness to go 'above and beyond the call of duty' to serve their residents."
Nancy Love, Acton
---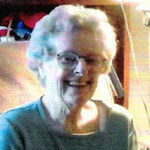 "During her five years at New Horizons, Mom appeared to be the happiest she had been in years and for this we have you folks and New Horizons to thank. Her entire family are most grateful."
Barbara Schleicher, Marlborough
---
"The warmth and caring of your staff have been most impressive. As a clinical psychologist with many years experience in residential and hospital living, I have been most impressed with how your total program approaches the needs of seniors with respect, sincerity, warmth, positive thinking and a degree of individualized attention I would never have dreamed possible (you can quote me)."
Dr. Richard T. Monahan, Sudbury
---
"I've been trying to find the words to express my appreciation for all the ways you've helped my mom, my brothers, and me over the years. While encouraging her to accept additional help, you also respected mom's decisions about what to do and what not to do—and more than just respecting her decisions, you actively championed her right to make autonomous decisions."
Lanelle Miller Jalowiec, Quechee, Vermont
---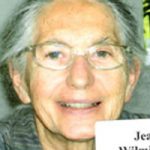 "To the staff at New Horizons, our heartfelt thanks to all of you who have been so warm and considerate to our mother during her stay. We appreciate the affection, gentle direction and careful attention given her."
Tim Hollis and Ruth Dufault, Hillsdale, NY
---
"My mother has been living here for about 7 years and she is having fun most everyday with her many friends. She'll often tell me how much she appreciates our selecting New Horizons for her. We hold [the Cummings organization] in the highest regard for their wonderful philanthropy and how they manage New Horizons. They have gathered talented and understanding management and service-oriented employees at every level of responsibility in their companies. Thank you."
Five-star Facebook review by Alan Brooks
---
"We would like you to know how much we appreciate all the thought that went in to 'Durgin Park Night.' Everything from the red and white checkered table cloths, the picnic-style seating arrangement of the tables, the extra effort that included management, wait staff and maintenance, not to mention the 'surprise factor.' It was clear that everyone enjoyed a very happy evening and we thank you so very much."
signed "The New Horizons Residents"
---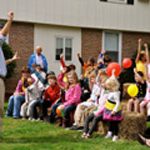 "I want to thank the men and women of New Horizons for the kind and thoughtful care you gave my sister, Mary McTague. We were always impressed by the warm and friendly spirit of all your people and how it carried throughout the place. Mary often spoke of how fortunate she was to be in New Horizons."
John Quinn, Amenia, NY
---

"I moved here eight years ago, and have never been sorry. A good value for the money."
Doris Bunzick, Haddam, CT
---
"My sister and I send our thanks for your hospitality at the recent summer reception. As usual, you did a wonderful job planning and presenting this event, but most important of all to the success of this party is the friendship and helpfulness you show to all the guests, residents, and visitors alike. Thank you for the lovely party and for all the kind and helpful things you do throughout the year."
Lorraine Keating, Arlington
---
"I want to take this opportunity to thank you and your staff . . . for their outstanding efforts to make my mother's stay as comfortable and happy as possible. A good part of my career was as president of a large corporation. If I were still running a company, I would hire every one of them on the spot. They understand the importance of client satisfaction."
Sal Macera, New Seabury
---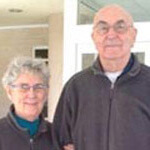 "Not only is your staff competent, but you should be proud that they are friendly, caring and working long hours without breaks! Quite an adjustment for us – as the former owners of an old Victorian, 13-room house, 115 years old! One call brought wonderful help and comfort."
Max and Betty Miller
---
"Yesterday we had our Dad's 80th Birthday Party. We started with dinner in the Bill Miller dining room for him, his children, grand and great-grand children alike. What a wonderful job the servers did; they were very attentive and made sure we had everything we might need. After dinner, we had an open house that saw not only friends and family, but many New Horizons residents in attendance as well. Again, the staff were all terrific and helped us make our Dad's 80th birthday very special for us all."
Family of John Beauregard, Nashua, NH
---
"In the short time that our Dad lived at New Horizons, the entire community-residents and staff-made both him and our mother feel at home, safe and comfortable. He was able to share the things he loved with renewed enthusiasm in what quickly became a new extended family.
"Thank you for doing so much in making our Dad's final days peaceful and dignified. The exemplary care and kindnesses extended by your staff will be a lasting gift to our whole family."
Dennis and Theresa Coache, Sterling
---
"What is your secret? Do you sprinkle pixie dust on the staff as they arrive at work? The reason I ask is because, for three years, whenever I talk to anyone at New Horizons they are friendly, helpful, and upbeat. No one seems to be a grouch or having a bad day. It truly is amazing!"
Betsy C. D'Angelo, Spring Green, WI
---
"I happen to work at South Shore Hospital, and I have also worked for Mediplex Nursing facilities years ago. I have never seen a facility that impressed me as yours did! I hope that someday your company will build in the South Shore too. The company has thought of everything."
Ellen Clinton, South Shore
---
"I am having a difficult time putting into words what New Horizons meant to our family. New Horizons was my grandfather's home for six years, and it was home to him. And I am thankful we were able to bring my grandfather home to New Horizons for his final service. Then to host a reception there after the service was above and beyond any words we can express."
Denise, Meghan, and Christopher Hudson
---
"Let me begin by expressing my heartfelt appreciation to you and all your staff for the care and concern shown to my mother during the last four years. She was the happiest I have seen her, and you made her last few days as comfortable as was possible, right down to personally sending her off in the ambulance."
June E. Coye, Windermere, FL
---
"To the office staff, many thanks for emailing the New Horizons Community Connections monthly newsletter. Thanks also to the department that sent the attractive Christmas card and lovely holiday photo of my parents in front of the decorated fireplace at New Horizons to my home. We appreciate the extra touches, kindness and thoughtfulness of the staff."
Diane Nescio, West Chester, PA
---
"I'd like to thank each and every one of you for the professional, caring way my parents were treated for the entirety of their four-and-a-half-year stay. From Community relations staff, to nursing and wellness staff, to dining room servers and housekeepers, and to the invisible administrators, each one has done their job well. As that has created confidence in the family, we never worried about their care at New Horizons. Thank you one and all – you do a great job."
Katie Lucente, daughter of George and Sally Young
---
"I just wanted you to know that last night when I saw my parents my mother seemed BETTER THAN EVER. I attribute that in large part to your efforts on her behalf. Steven Covey, who wrote the book the 7 Habits of Successful (Families, etc), wrote that 'a mother is as happy as her saddest child.' I can turn that around and say 'A child is as happy as her (sad) mother.' I know that at this age, it is a roller coaster of emotions, and you have a lot of oldies there — but my heart is singing because for the first time in nearly a year, when she spoke about her chess partner she said, 'I'm having fun!'"
So…Happy Thanksgiving. And I am giving thanks for you and the people at New Horizons."
Svea Fraser
---
"She went from calling it her "room" to her "home." You were always responsive to her needs and concerns; she and the rest of our family appreciate this caring."
Nancy Plumhoff, Stow
---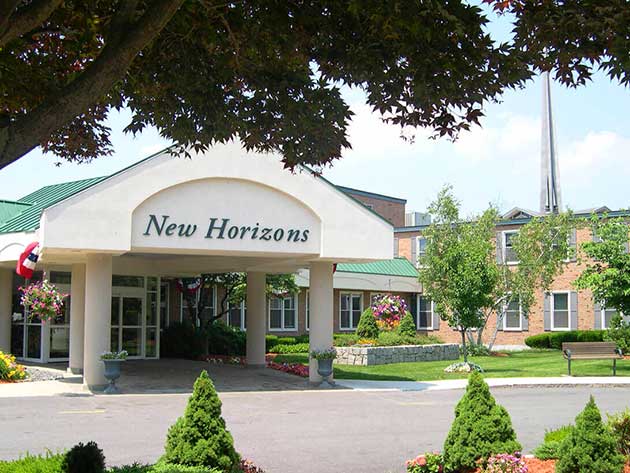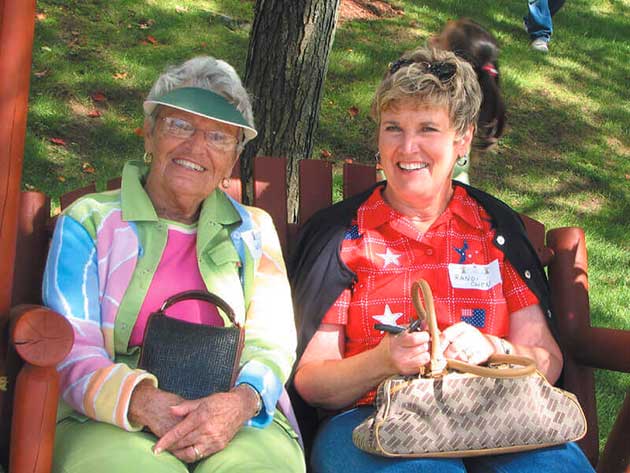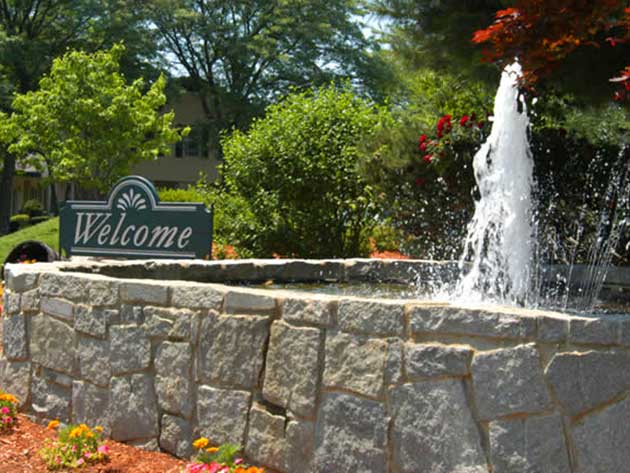 Continue
Both New Horizons are strictly not-for-profit communities owned by Cummings Foundation, one of the largest private foundations in New England. Cummings Foundation awards more than $25 million annually, and has awarded more than $320 million to date to support greater Boston nonprofits.